April Issue of Cosmopolitan on iPad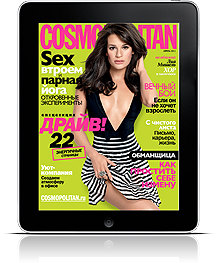 This month, the iPad version of Cosmopolitan has become even more convenient with a new page design, sound effects and greater interactivity.
April is a time of exuberant energy and implementing new plans, which is why one of the main themes of this issue is "personal drive." The magazine offers tips to help you love yourself and your work, overcome fatigue, develop your creative potential and even start a new life. The April application also includes new, frank videos from Lady Gaga and Rihanna, a video workshop by leading Chanel makeup artists, an interview with Anton Shagin, an interactive test and a full listing of events synchronized with Google Calendar.
Users can download the Cosmopolitan application from the App Store. Details are available at ipad.cosmo.ru.