Grazia at Fendi Fragrance Premiere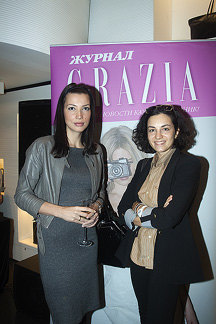 Grazia magazine invited the fashionable young women of Moscow to the Fendi boutique on Stoleshnikov Lane for the September 8 international premiere of the new Fan di Fendi fragrance.
With her lively and intriguing talk over cocktails, Fendi brand Russia representative Irina Ville was able to transport guests on a short journey through Italy, test a new fragrance and do a cover shoot for Grazia. Of course, no trip to Italy would have been complete without shopping: Grazia stylists helped all the guests try out new Fendi products. The welcoming host presented guests with a small memento of Italy embodying sensuality and femininity – the new fragrance Fan di Fendi.
Even guests included Anastasia Makeyeva, Yelena Nelidova, Valentina Arutyunova, Karina Oshroyeva, Ramil Iskander, Anastasia Virganskaya, Alla Belyak, Inna Asekritova, Lyubov Abramova, Maxim Rapoport, Yana Laputina and many others.