Christina Aguilera on Cosmo.ru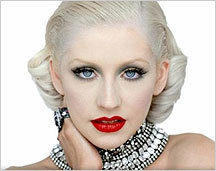 A new video by Christina Aguilera singing "Not Myself Tonight" became available in the United States on Thursday night. The Cosmu.ru website is the only legal venue for viewing the clip in Russia. Cosmu.ru is the first site in Russia given the right to show the exclusive video.
Aguilera's new album, Bionic, will be released on June 7, to the eager anticipation of music lovers all over the world. Everyone is asking the same question: After years of silence, what will the new Christina be like? You can find the answer on Cosmu.ru.