Charitable Project from Popular Mechanics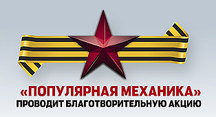 Popular Mechanics and the Good Deeds Foundation teamed up to conduct a charitable project in May to commemorate the 65th anniversary of the World War II victory. The project is dedicated to the main heroes of that victory, the veterans of the war – whose numbers are dwindling and who need assistance and support more than anyone.
One ruble for every issue of the magazine sold in May will be sent to aid veterans. Given the high circulation of Popular Mechanics, that will be enough money to buy medicines, medical equipment and other necessities for those who rely on them to maintain their health and prolong their lives.
A report on the outcome of the project will be published in the June issue of Popular Mechanics.
The Independent Media Sanoma Magazines publishing house – that includes Popular Mechanics – has been working with the Good Deeds Foundation for five years already to help the elderly through the "They Need Your Help" program of private donations.