Make-up by Cosmopolitan Beauty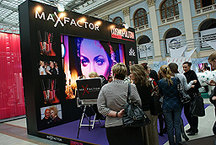 The latest Fashion Week was held in Moscow from March 20 to 26 and once again, Max Factor served as the official visagiste of the event. The company's official visagiste, Vladimir Kalinchev, headed a team of professionals who created the most stylish make-up of the autumn-winter 2010 season.
Fashion Week guests could enjoy viewing his work not only on the catwalk, but also at the stand operated jointly by Max Factor and Cosmopolitan Beauty. Visitors to the stand had the opportunity to be transformed. Max Factor visagistes applied free, express make-up to guests, who then posed for a mini-photo shoot with the magazine's photographers. Ladies can view photos of themselves from that shoot on the web site www.cosmo.ru.