Popular Mechanics Offers Invitation to Secret Space Laboratory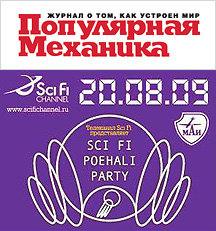 The first event hosted by the Science Fiction-Lovers Club, the Sci-Fi Poehali Party, will be held on August 20, 2009 at the initiative of the Sci Fi television channel and with the support of the Moscow Aviation Institute and Popular Mechanics magazine.
The event will consist of two parts – educational and musical. The educational part, to consist of lectures and excursions, will take place from 6 p.m. until 9 p.m. in the secret astronaut laboratory of the Moscow Aviation Institute – accessible for the first and only time within the framework of the Sci-Fi Poehali Party. Every member of the excursion will have the chance to see –  and even to climb inside – unique lunar modules, real rockets, previously launched space equipment and other achievements of Soviet-era rocket engineering. 
At 10 p.m., the Sci-Fi Poehali Party will move to the innovative "Air" space where a Gagarin party will be held in the best traditions of the space program.
Only registered participants can take part in the event. Registration is available through the web site www.scifichannel.ru.