Grazia in Milan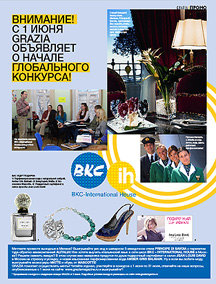 Grazia magazine and the BKC International House chain of foreign language schools are conducting a contest.
By correctly answering all the contest questions published in each summer issue of the magazine, BKC students and Grazia readers can win an unforgettable weekend in Milan. The trip includes a comfortable flight there and back on Alitalia, a basic course in Italian, a gift certificate to the Jean Louis David beauty salon, bijouterie by Mate and shoes from Mascotte, as well as exquisite Ambre Gris perfume from Balmain.
Throughout the duration of the contest, Grazia magazine will be on sale at major BKC International House schools, the Alitalia office and in Mascotte stores.