Cosmopolitan and Men's Health at Sensations Festival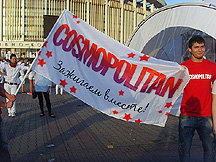 In St. Petersburg on June 12, Radio Record presented the Sensation Festival - one of the main dance events on the planet. Cosmopolitan and Men's Health magazines served as informational partners to the event.
The phenomenon, which first appeared in Holland nine years ago, has now conquered more than 20 countries and has become one of the most valuable and prestigious brands in show business. The Sensation Festival uses the color white as its symbol, with festival guests from around the world traditionally being dressed only in white. In Holland - the festival's birthplace - 40,000 tickets sell out within two hours after the box office opens, even before the list of performers is announced.
Sensation is not only the world's best DJs and the hottest dance music. It is primarily a fantastic technical display and a unique show unlike anything else in the world. Sensation highlights a new concept each year: This year, the Russian staging of Sensation featured the show, "The Tree of Love" - a 10 million-Euro production. Head-spinning stunts, super-powerful pyrotechnic effects, fabulous decorations and the best DJs in the world - that is what the audience of 15,000 witnessed at the St. Petersburg Sport and Concert Complex on June 12.
As partners, a Cosmopolitan and Men's Health promotional clip was shown on plasma television screens at the event, and banners advertising the publications hung above the entrances to the concert complex.