Discounts from Cosmopolitan Shopping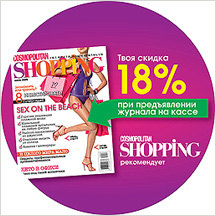 This June, a pleasant surprise awaits shoppers at the lingerie store Women'Secret, Cosmopolitan Shopping readers and holders of Alfa Bank Cosmopolitan VISA cards.
Cosmo Shopping's stylists selected the most fashionable items from the store's collections and labeled them with a tag reading, "Recommended by Cosmopolitan Shopping." Every woman making a purchase and who shows a copy of the magazine or pays with an Alfa Bank Cosmopolitan VISA card will receive an 18 percent discount.
Cosmopolitan Shopping recommends giving special attention to the bathing suits on sale!