Cosmopolitan Beauty Recommends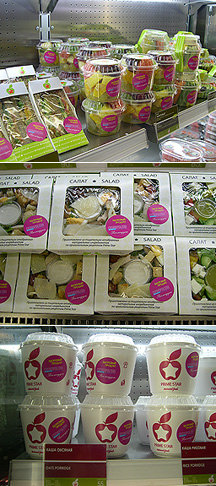 Cosmopolitan Beauty magazine and the Prime Star café chain are conducting their second joint promotional campaign. The magazine's editors selected the healthiest products on the cafés' menu and placed stickers on the packaging that reads "Healthy product. Recommended by Cosmopolitan Beauty."
The list of recommended products includes salads, fresh-squeezed juices, energy bars, nuts and many other healthy foods. This time, the magazine did not limit itself to placing stickers on healthy products, but on every table also placed table tents with excerpts from articles in Cosmopolitan Beauty's spring issue about healthy foods. Café customers can read the full articles by buying the magazine.
The campaign in Prime Star cafés will continue through the end of May.
Cosmopolitan Beauty helps its readers even beyond the pages of the magazine itself!