Cosmopolitan Shopping: Discounts in the Best Stores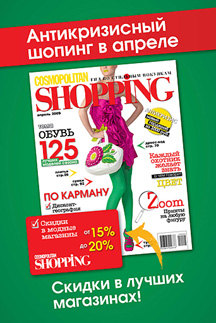 "Discount card for the best stores!" - This is the fourth time Cosmopolitan Shopping magazine has made such an offer.
A card is attached to the cover of the April issue, which went on sale March 24. The card entitled the bearer to a 15 percent to 20 percent discount at the best stores throughout the country, including shops in Moscow, St. Petersburg, Yekaterinburg, Novosibirsk, Nizhny Novgorod and other cities. Cosmopolitan Shopping urges its readers not to wait for the start of the sale season and to start receiving discounts now and throughout the month of April.
In all, 15 famous brands are participating in the project, all of which have well-developed store chains in Moscow and the regions. They are: Aldo, Aldo Accessories, Snyezhnaya Korolyeva, Oasis, Naf Naf, Guess, Levi's, Timberland, Personage, Il De Bote, La Senza, ClaireDK, Corso Como, Concept Club and the FizKult fitness club chain. The brands are represented in a total of more than 400 stores. During the sale of the April issue, every store has tags, bobblers and pamphlets on display advertising the magazine.
An advertising campaign in Moscow including city format signs and radio ads will accompany the project.