Popular Mechanics in November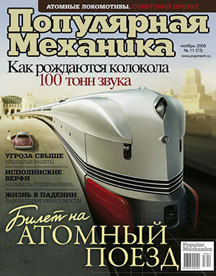 Half a century ago, Soviet engineers dreamed of giving the citizens of this great country the opportunity to ride on a double-decker megatrain with a nuclear-powered engine. Why didn't the project become a reality? Where are the engines from the nuclear bombers? And does a train with a nuclear-powered engine have a future? You can learn the answers to those questions in the November issue of Popular Mechanics.
A military theme is reflected in stories on the history of Soviet cruise missiles and projects to create exotic armor plating technologies. Lovers of astronomy and space flight will want to read about research on Venus and physical training under conditions of artificial weightlessness.
Readers will also learn where the largest ships in history are being built, the test drive results of a winter all-terrain vehicle, and why the Bible can be presented in the form of a mathematical "rainbow."