Sanoma Introduces a New Brand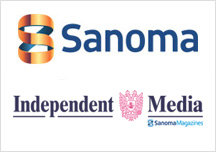 Beginning in October 2008, Sanoma Group WSOY - that includes Independent Media Sanoma Magazines - has changed its name to Sanoma. The company will include five major divisions: Sanoma Magazines, Sanoma News (formerly Sanoma), Sanoma Learning & Literature (SanomaWSOY Education and Books), Sanoma Entertainment (SWelcom) and Sanoma Trade (Rautakirja).
Over the last decade, Sanoma Group has become one of the most successful media companies in Europe. The Sanoma name has become synonymous with high quality and authoritative information for millions of readers. According to Sanoma Group CEO Hannu Syrjanen, the Finnish word "sanoma" - meaning "message" - perfectly describes the company's activities.
Hannu Syrj_nen emphasized that "the new Sanoma will inspire, inform and unite." The company's values remain the same, but the company logo will now include a new visual element - a ribbon symbolizing the main themes of the Group's leading brands: inspiration, information and unification.
"The long-term project of building a new Group and brand is only just beginning," said Hannu Syrjanen.