Creative Work of the Year by Cosmo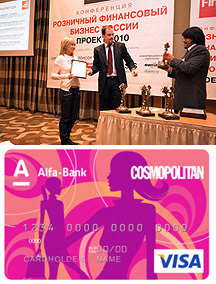 The professional community has named the card AlfaBank-Cosmopolitan-Visa the "Creative Work of the Year" after the open voting at Finance Awards 2007. The prise is awarded for the achievements in Russian retail finance business.
Female card AlfaBank-Cosmopolitan-Visa was created in February 2007. Debit or credit, it provides discounts and presents in a whole range of shops, cafes, beauty salons, fitness clubs and other places in more than 20 Russian cities. More than 22 000 card are issued up to the moment.
Alexey Marey (head of the AlfaBank retail business department) and Maria Rebedailo (Cosmopolitan chief marketing specialist) received the award.