Cosmopolitan Choice in July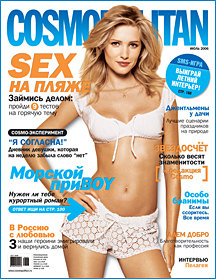 In the July issue of Cosmopolitan, readers can find two coupons: Evian + L'Etoile + Cosmo and BenQ-Siemens + Cosmo.

Up to the end of July, purchasers of Evian mineral water have an opportunity to participate in a points program, gaining 25 points for a 0.5 l bottle and 50 for a 1.5 l bottle. Those who collect 500 points can trade stickers and checks for a L'Etoile gift certificate with a nominal value of 500. Additionally, the coupon from the July issue can be turned in for another 100 rubles.

From June 20 to July 18, buyers of the stylish BenQ-Siemens EL71 marked by a "Cosmopolitan Choice" sign in a DIXIS shop will receive a nice souvenir.