Cosmopolitan Shopping Starts Renovation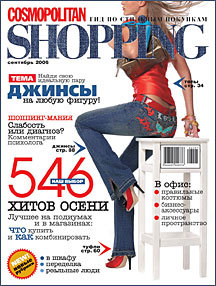 The September issue of Cosmopolitan Shopping came out with a fresh design and several new rubrics.

They are:

Renovation: leading Russian designers show how to make every piece of clothing unique.

Ask Nadya: Cosmo's fashion editor answers the readers' questions on the latest fashion trends, new shops and interesting brands.

In the wardrobe: the rubric's hero, together with the magazine's stylist, has her wardrobe inspected, making new images from familiar things.

Thanks to the new rubrics, the magazine will become more useful and interesting for readers from a practical point of view.