Grazia at the Premiere of "Bobby"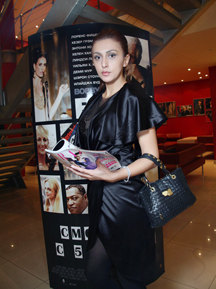 On April 2, the premiere of "Bobby" took place at the Oktyabr movie theater. Advertising support was provided in part by Grazia magazine. In this film, actress Svetlana Metkina plays with an entire constellation of Hollywood stars, including Anthony Hopkins, Demi Moore, Sharon Stone, Lindsey Lohan, Ashton Kutcher and Christian Slater. Christian Slater and Svetlana Metkina were at the premiere to meet with journalists and share their impreesions of working on the movie. Svetlana's friends gave her a massive congratulatory bouquet.

Among society girls, the biggest topic of discussion was the first issue of Grazia.