Captains Of Russian Business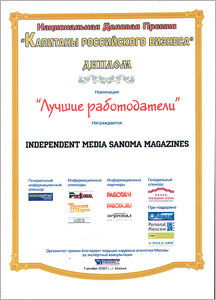 The editorial house Independent Media Sanoma Magazines was given the prestigious "Captains of Russian Business" in the "Best Employer" category.

The "Best Employer" award was organized by Personnel Management magazine as part of the "Captains of Russian Business" National Business Awards. The nominees were chosen by the leading personnel agencies of Moscow, and the companies were valued according to multiple criteria. More than 600 different companies were nominated in 2007.