Cosmopolitan: Available Connection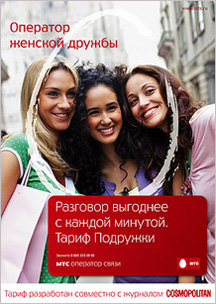 Cell phone operator MTS and the magazine Cosmopolitan launched a special tariff called "Podrugi" (Girlfriends) on March 8. This option, which carries no connection fee, will be perfect for modern girls who talk a lot on their cell phones with their multiple friends. The tariff provides many interesting services, such as an opportunity to connect 10 favorite numbers with free outgoing calls.

Moreover, the subscribers are offered a range of additional mobile services at the website wap.podrugi.mts.ru. The site is full of interesting and useful information written by Cosmopolitan especially for the ladies.

The launch is supported by a wide promotional campaign on TV, radio and in the Internet. Apart from the commercials there will be promotional banners in Moscow and in the regions.

You can subscribe to this tariff in any MTS shop and in dealer shops.