The Moscow Times Presented "Ethics in Business" Seminar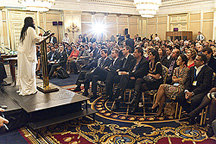 For the first time in Russia, an open business seminar was held featuring the international humanitarian leader Shri Shri Ravi Shankar. The event was held on September 7 at the Ritz-Carlton in Moscow and organized by the Young Presidents' Organization in partnership with The Moscow Times.
Shri Shri Ravi Shankar primarily spoke on interrelationships in the world. The guru gave advice on conflict resolution and emphasized the importance of corporate social responsibility towards society. A group of panelists developed the theme of ethics in business. They included Ward Howell chairman Sergei Vorobyov, political consultant Igor Mintusov, the chairman of the board of Niccolo M, Rolf founder and owner Sergei Petrov and Allianze Rosno CEO Hans Chopra.
The event was attended by some 400 guests, including prominent business figures, celebrities and representatives of the media.
More information about the "Ethics in Business" seminar and other events organized by The Moscow Times newspaper can be found at www.themoscowtimes.com/conferences.