National Geographic Traveler at Gostiniy Dvor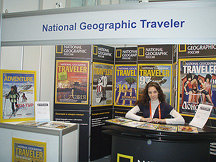 National Geographic Traveler magazine acted as informational partner to the 16th International Ski & Board Salon held from October 30 to November 1 at the Gostiniy Dvor in Moscow.
This year the Ski & Board Salon united more than 200 participants in four categories – tourism, sport, downhill skiing engineering and downhill skiing resort. The Ski Salon included conferences on current issues in the ski business, seminars and consultations.
The National Geographic Traveler booth, which traditionally attracts a great number of visitors, was open throughout the duration of the event. Guests to the NGT booth could browse and buy several issues of the magazine.