Men's Health Network Attack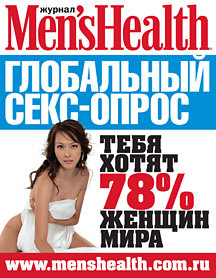 The release of the July issue of Men's Health was supported by a large-scale Internet advertising campaign. The careful choice of Internet resources provided a large coverage audience - over 2 mln users.
For the purpose of enhancement and target effect, the audience chosen for the advertising consisted of a 80% men.
At Admedia web sites (automobiles and sports), banners are placed with help of rich-technologies. At the same time,
www.rambler.ru
uses both static and dynamic placement (100,000 showings a day and of over 4,000,000 in one of the campaign's days). Direct mailing (men 25-35 years old) is provided with help of
www.subscribe.ru
. Articles about the July issue of Men's Health are published at
www.moscowout.ru
and
www.newsru.com
.
The advertising campaign started on the release day of the magazine and will last till July 10.