Esquire Hosts Breakfast at Coffeemania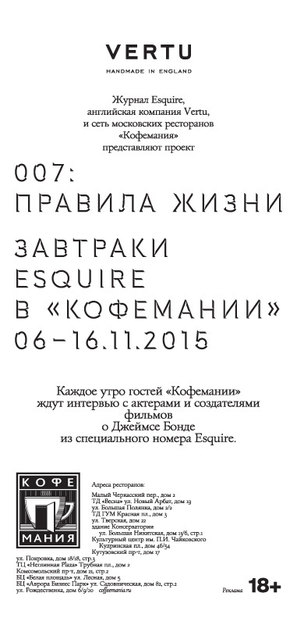 Esquire magazine has been given exclusive rights for a cover shoot with Daniel Craig, the man who plays the leading role in the new James Bond film "Spectre." Craig also gave an interview with the magazine for its Rules of Life column.
This will be Craig's fourth time playing the role of Bond. The November issue with him on the cover will go on sale November 3 and film will open in Russia on November 6. Readers will also find the Rules of Life according to Sean Connery, Roger Moore, Timothy Dalton, Pierce Brosnan, Ursula Andress, Halle Berry, Sophie Marceau, Eva Green, Monica Bellucci, Ian Fleming and James Bond himself.
In support of the release of the new issue of Esquire as well as the 24th Bond film, the magazine is having a special promotion in outlets of the Coffeemania restaurant chain with support from the English luxury mobile phone company Vertu. Every morning from November 6 to 16, Coffeemania customers can pick up a special issue of Esquire with interviews with the actors and creators of the James Bond film series.